Award-Winning Service!
For 8 years in a row, we have secured the voter's choice for the "Best Travel Agency" and the "Best Travel Agent" in the Volusia county in the Reader's Choice Awards! This is a contest where our clients and our community vote for the best in the business. We are grateful and humbled by the multitude of votes we have received year-after-year for our customer service, industry knowledge, travel experience, and long-term partner relationships that let us offer our clients a truly memorable adventure. Additionally, Marisel Aleman has won the "Best Travel Agent" each year as she provides the ultimate value-packed vacation experience every time. Plus, Marisel is the ONLY nationally recognized travel advisor in our area making her the "Go-To" travel guru for all your getaway needs!
Planning Your Trip is Just the Beginning!
Finally, a travel advisor at your service from start to finish! We believe in providing an all-inclusive journey that begins with dreaming with you about your ideal vacation. Then, your personal advisor will plan every detail on your behalf from transportation reservations to resort stays, tours, and diner plans. Have a special event to plan or dietary restrictions? Allow us to covey all your requests leaving you with a single advisor to contact. Everything is individually customized to give you the journey of a lifetime!
Feel Like a VIP!
With your unique itinerary, you'll feel like the VIP you are! Think of us as you're very own complimentary concierge service. Each reservation will be clearly labeled, required directions will be a breeze to find, and all transportation to your activities will be arranged ahead of your stay whenever available. Plus, we are only a phone call away for any last-minute changes or questions. Now, THIS is the vacation you have always imagined!
No Long Hold Times Here!
Speaking of questions, are you tired of calling airlines and hotels only to be told you have the wrong department or be placed on hold for woefully long periods of time? Whether you are requesting a change or asking about the weather, your travel advisors at Cruise Elite, Inc. are looking forward to accepting your call and acting on your behalf. One quick friendly call and done! We will take care of all reservation bookings and alterations with cruise lines, airlines, car and RV rentals, resorts, tours, event planners, activities, and restaurants. Yes, it's truly that easy when you vacation with Cruise Elite, Inc.!
Industry Experience Counts!
When you contact a travel agency, you may be expecting a personal assistant to book your stay and transportation. At Cruise Elite, Inc., however, we take planning to a whole new level! We pour our many years of industry knowledge and extensive travel experience into each vacation. This means we will give you expert tips on exciting tours, cultural events, top-rated restaurants, best times of year to travel, the seating during transportation that gives you the most scenic views, and, of course, those sights you won't want to miss! In fact, we will even help you create a bucket list for all the places you will want to visit and why.
Read Our Client Reviews!
Our team continually endeavors to turn all your travel wishes into a reality, and we appreciate each of our five-star reviews and voters each year for our Reader's Choice "Best Agency" and "Best Travel Agent" awards. Here are a handful of examples of what people are saying about us in their own words.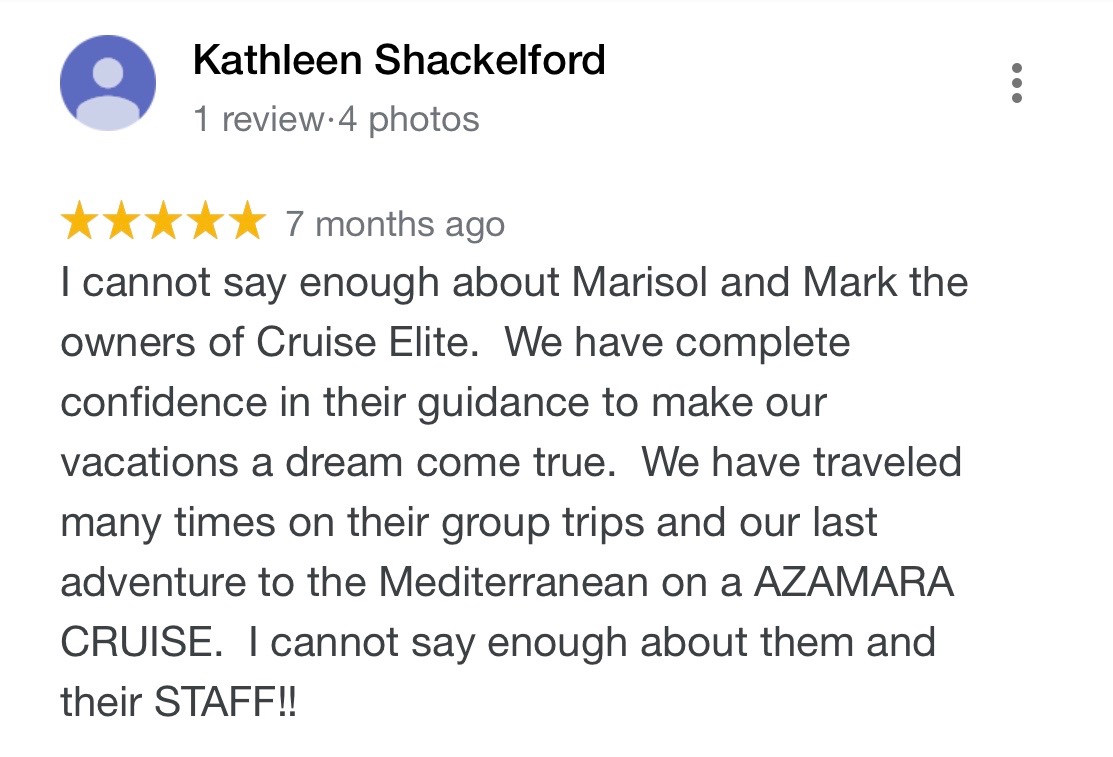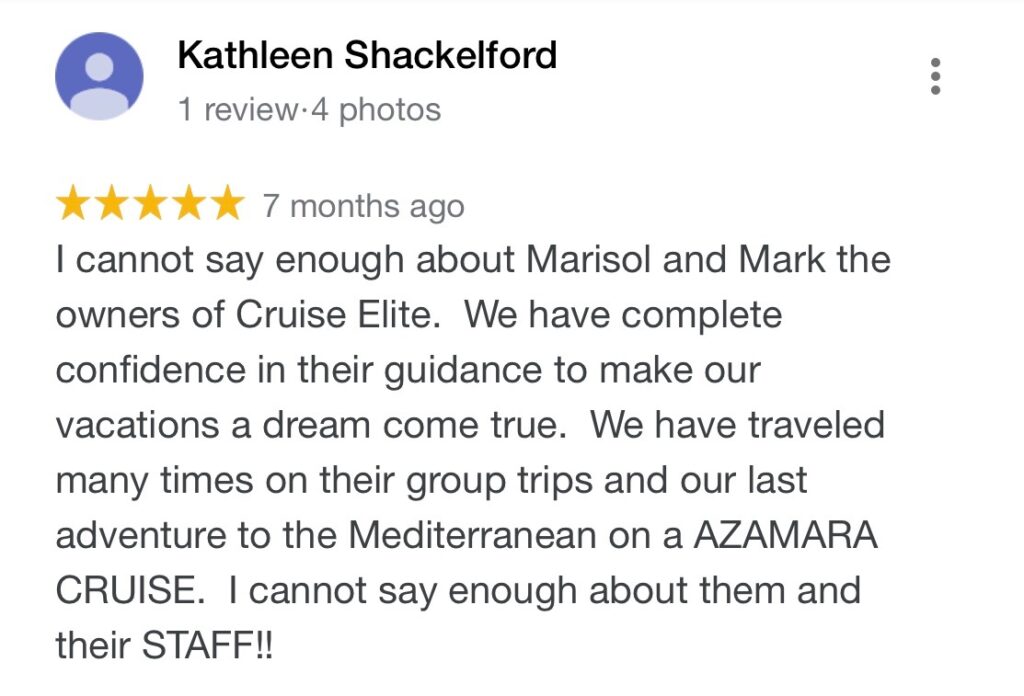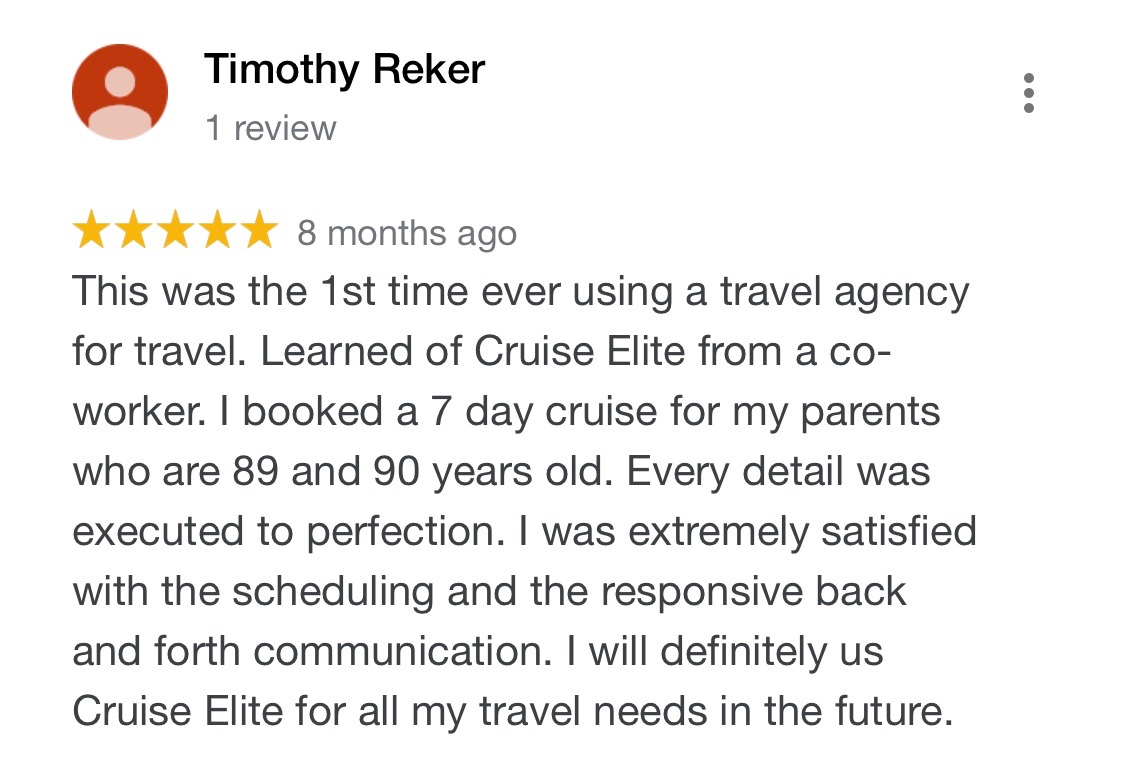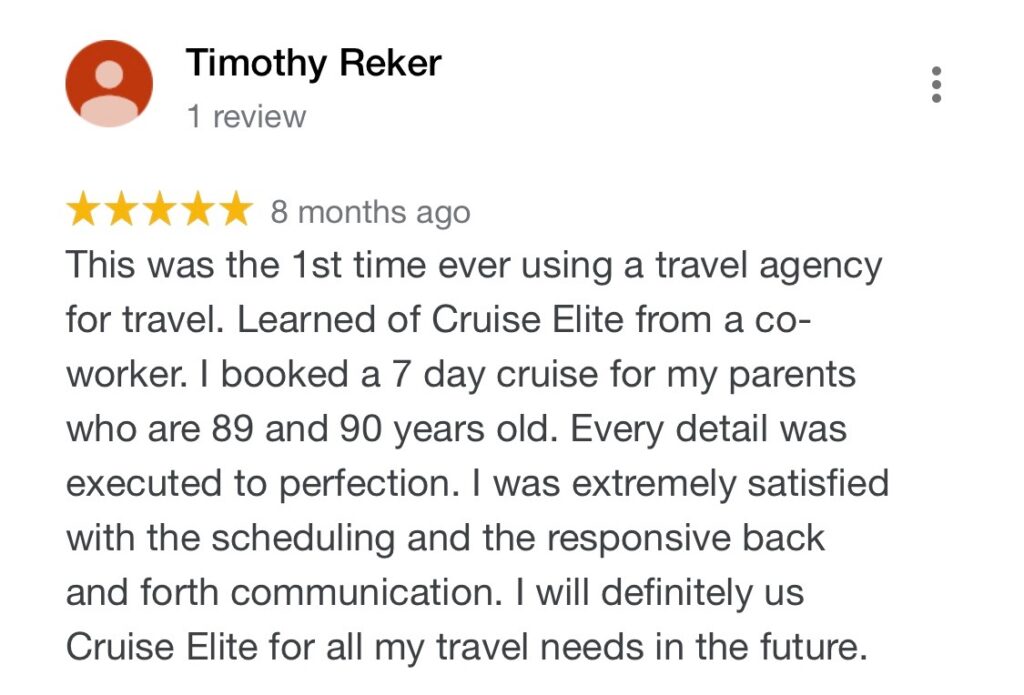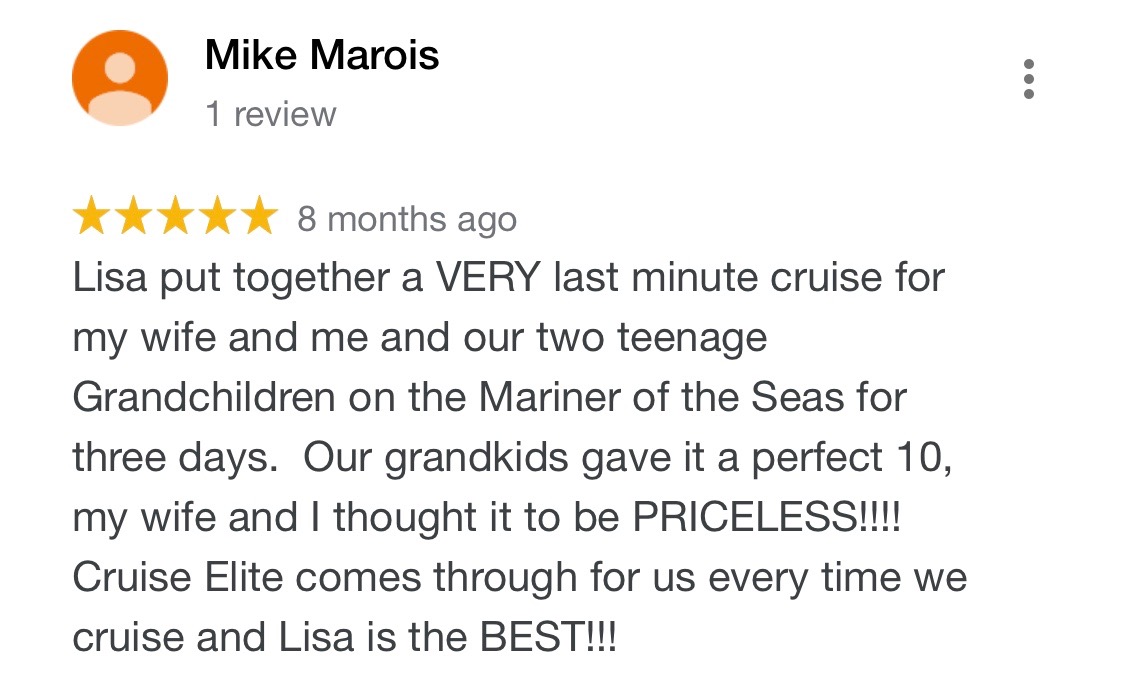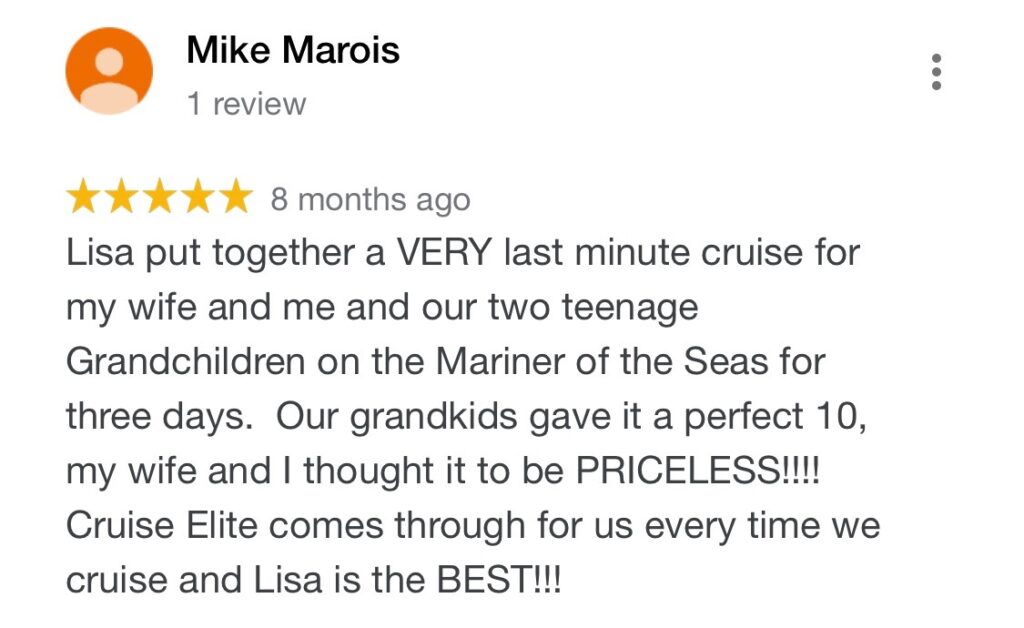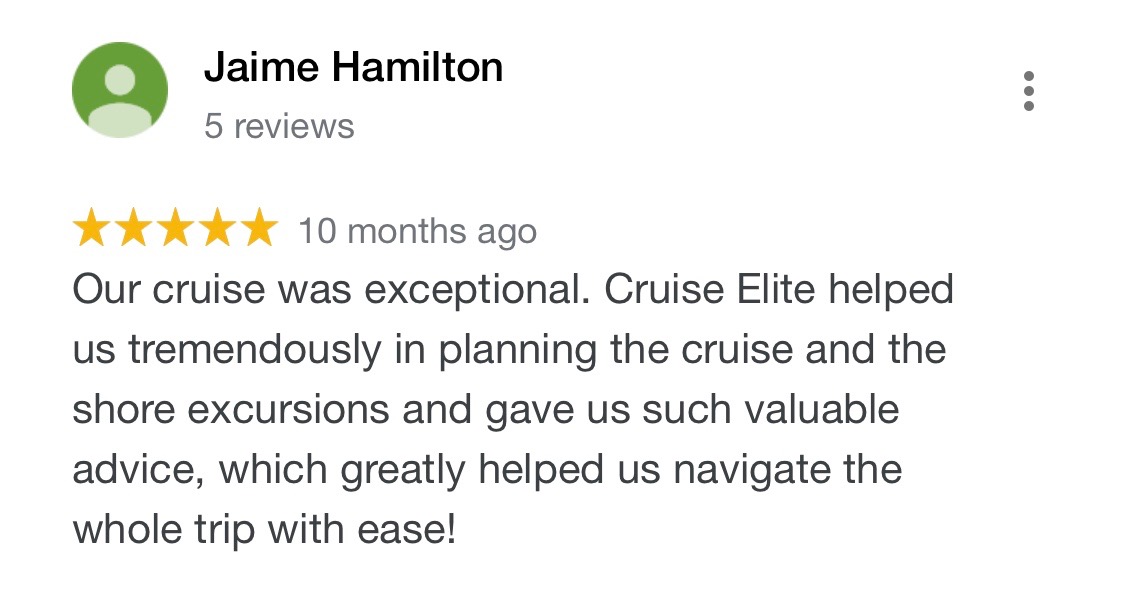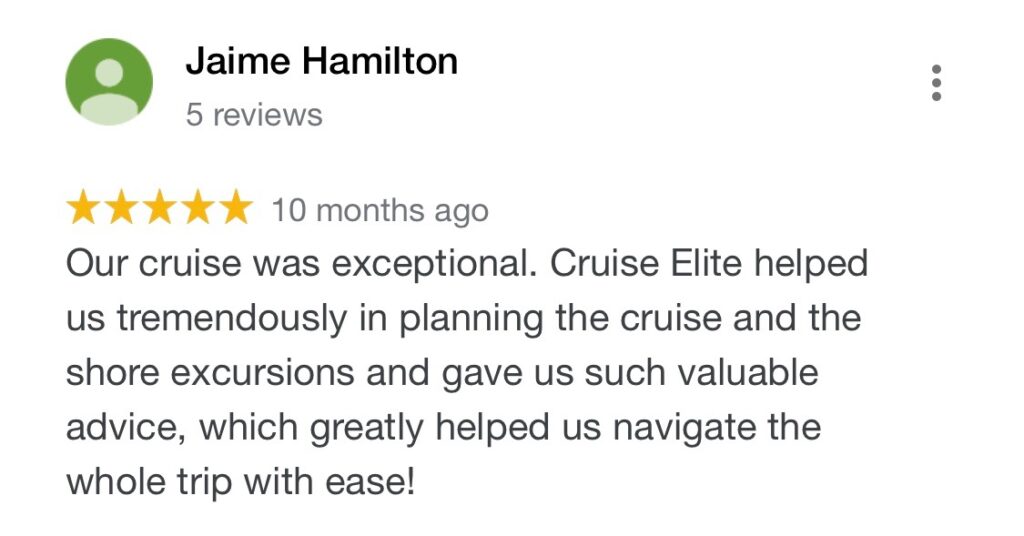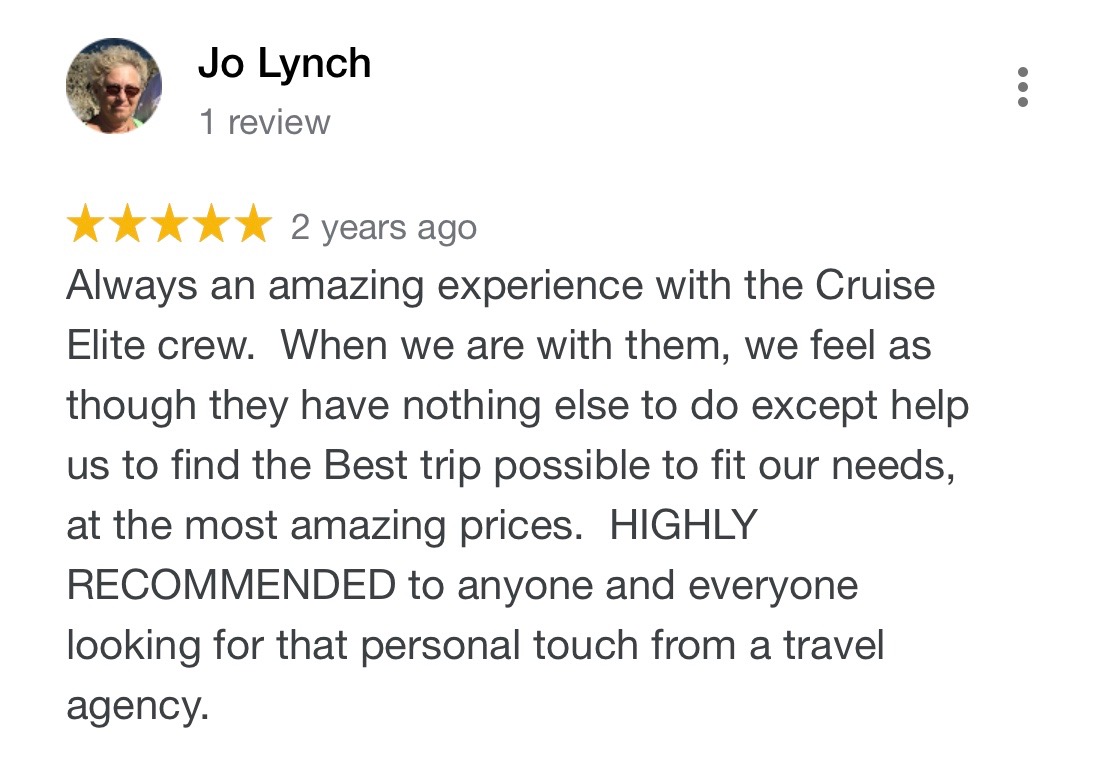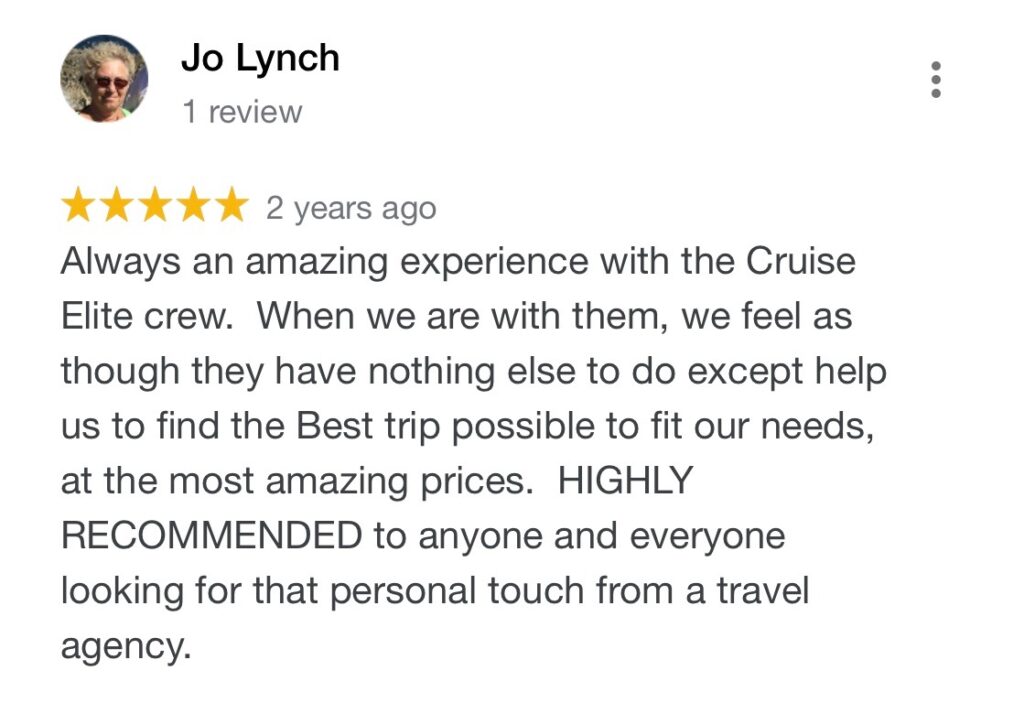 Hence, when you want to plan a vacation or special event in your life, let the travel experts at Cruise Elite, Inc. assist you with all your travel needs. From the initial conversation until you return home safe-and-sound, we're here for you! So, even if your trip is in the distant future, go ahead and dream a little with us by filling out our contact form or calling us at 386-673-2473 to find out why our travel agency is considered the one-and-only "Seasoned Traveller's Choice".